Palawan is a well know tourist attraction because of it's pristine Mountains, clean air, and it's clear blue waters.

But it's looks are disceiving. It harbors the most deadliest form of Malaria known to man. Also, it has a large population of reptiles such as Cobras, Pythons, and Monitor Lizards which range in size from 3 ft. to 8 ft in length. It is home to it's own sub-spiecies of the Asian Scorpion which is found nowhere else in the Philippines. This Scorpion grows to be anaverage length of 7 inches.

It is also home to the Mouse deer, the Bearcat, and the Mustag. Palawan boasts many rare Bird spiecies like the Hornbil, the Palawan Peacock Phesant, The Great King Fisher, and the Palawan Eagle which is found only in Palawan.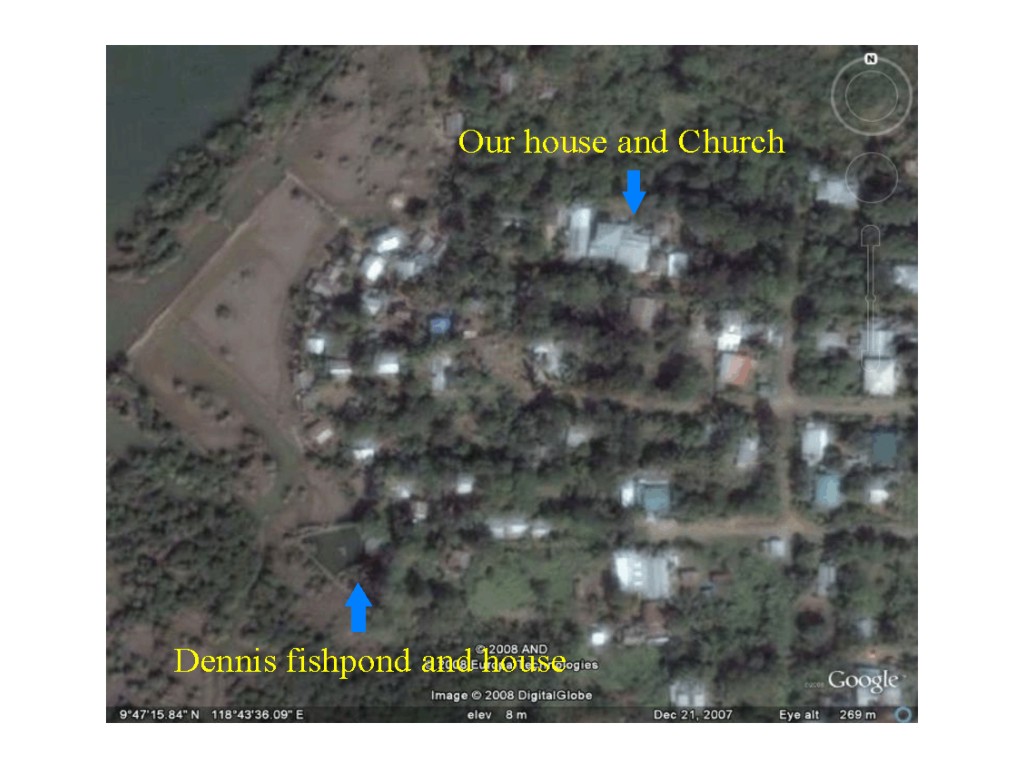 Purok Magkaisa, Santa Monica, Puerto Princesa City, Palawan, this is the area currently where our home and church are located. If you look closely youwill see a blue roof to the top of the picture that is our house, and to the right is a silver roof, that is our church.
Thanks to Google Earth this picture was made available and it was taken Dec 21, 2007one day before our Christmas Party on Dec 22.
Facts and Statistics of Palawan
Palawan is a narrow archipelago of 1,700 islands on the western border of the Philippines. Its geographical location makes it seem remote from the rest of the country, and in fact, some of its southern islands are closer to Malaysia than to other provinces. The waters of the South China Sea lap the western shores of Palawan, while the Sulu Sea hugs its Eastern Coast.
With a land area of nearly 1.5 million hectares, Palawan is the countrys largest province. Its irregular coastline stretches almost 2,000 kilometers long, indented by numerous coves and bays. Highlands and rolling terrain covered with lush forests create a cool and scenic landscape.
Except for northern towns which are occasionally visited by storms, Palawan is generally typhoon-free. Warm weather prevails from March to May, while the coolest months are from December to February. Heavy rainfall is usually experienced in July and August, often accompanied by the Southwest monsoon.
Palawan is one of the few relatively peaceful provinces in the country. The crime rate is low and most Palaweos are contented to lead simple lifestyles. Food is abundant to all who are willing to work for a living.
The province is a melting pot of migrants from various parts of the Philippines and other countries. The influx of settlers accounts for the high population growth rate of 3.92% annually. By 2020, the number of Palaweos is expected to reach 1.2 million.


Location: Situated 7 degrees 47 minutes and 12 degrees 22 minutes north latitude and 117 degrees and 119 degrees 51 minutes east longtitude, between the islands of Mindoro and Borneo, and west of the main chain of Philippine islands.
Political Boundaries: 1 City and 23 municipalities, 2 congressional districts and 431 barangays
Capital: Puerto Princesa City with a population of 429,577 and 250,000 households (during School year the City's population reaches to 600,000)
Climate: Palawan is generally free from typhoons and is away from any major earthquake fault lines. The province experiences two types of climate-a distinct dry (during November to April) and wet seasons each for six months, prevailing at the extreme north and south ends and northwest coast of the province. The eastern part has a short dry season with no distinct rainy season. In North Palawan, the average annual extreme temperature range from 22.6C - 31.9C. Annual average rainfall ranges from 2.327 mm to 2.577 mm. Average relative humidity ranges from 81% to 83%. In Puerto Princesa City, the average annual extreme temperature range from 23.4C - 31.3C with an average mean temperature of 27.4C.
Land Area: 14,896.55 sq. km. (the largest province of Region IV and the fifth largest island in the Philippines)
Size: 650 kilometers long with a coastline of 1,959 kilometers
Population: 449,486 in 254,928 households (2005 Census on National Statistics Office) with a growth rate of 4.93% in 1995-2003
Literacy Rate: 94% in 1994
Major Agricultural Products: Rice, Corn, Coconut, Cashew and Various but vanishing marine life.
Other Agricultural Products: Mango, Bananas, Peanuts, Coffee, Cassava and misc. vegetables
Forest Products: Rattan, Almaciga, Honey and Bamboo
The entire province was proclaimed as Fish and Wildlife Sanctuary in 1967. Palawan is the habitat of 232 endemic species. Some of these unique creatures are the metallic-colored peacock pheasant, the shy mousedeer, the cuddly bearcat, and the reclusive scaly anteeater. In the forests and grasslands, the air resonates with the songs of more than 200 kinds of birds. Over 600 species of butterflies flutter around the mountains and fields of Palawan, attracted to some 1,500 flowering plants found here. Endangered sea turtles nest on white sand beaches, and the gentle Dugong feeds on the seagrass that abound in Palawans Waters.
Palawan is home to several ethnolinguistic groups; The Tagbanua, Pala'wan, Tau't Bato, and the Batak. Research has shown that the Tagbanua and Pala'wan are possible descendants of the Tabon cave men. Their language and alphabets, practice of kaingin, and common belief in soul-relatives are some of their cultural similarities.
Tagbanua tribes are found in cental and northern Palawan. They practice shifting cultivation of uipland rice, which is considered a divine gift and are known for their rice wine ritual called Pagdiwata.
The Pala'wan tribe belongs to the large Manono-based linguistic groups of the southern Philippines. The Batak group, which means "mountain people" in Cuyuno, lives in the rugged interiors of northeastern Palawan. The Tau't Bato is a sub-group of the Pala'wan tribe living in Singnapan Valley in southern Palawan.
Native-born Palaweos include the Cuyunons, Agutaynons, and Molbogs. Originally from the island town of Cuyo in northern Palawan, cuyunons are considered an elite class. They are religious, disciplined and have a highly-developed community spirit. The Agutaynons practice a simpler island lifestyle, with fishing and farming as their main source of livelihood. The Molbogs, the original inhabitants of the southernmost island group of Balabac, derive their name from the word "malubog" which means turbid water. Among Palaweos. the Molbogs are the ones most exposed to Islamic culture